AUTHOR SPOTLIGHT: AMANDA ALVAREZ
Hi there Amanda Alvarez.  The bunnies are inquiring folk and wanna chat about your writing with you…
What do you have out?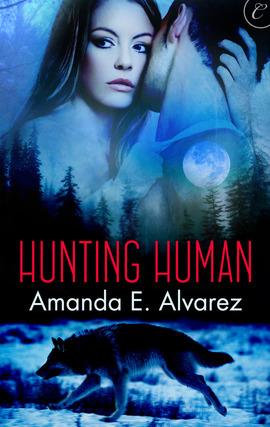 My current release is Hunting Human, a paranormal romance that was released from Carina Press on March 28, 2011.
Tell us a little about Hunting Human, what inspired you to write Hunting Human.
How about I give you the blurb? It says what the book is about far better than I can. J
For two years, Beth Williams has run from the past, and the beast that dwells inside her. She is haunted by memories of being kidnapped and the savage attack that killed her best friend. Now Beth finally thinks she's ready to move on…with Braden Edwards, a charming, irresistibly sexy man who tempts Beth to embrace the present.
But the past lurks closer than Beth realizes. Markko Bolvek, one of the werewolves who kidnapped her, has tracked her to Portland, Oregon, his pursuit fueled by a hunger for vengeance. Only Braden, a werewolf himself, senses the danger shadowing her steps. The Edwards and Bolveks have been enemies for centuries—and despite the instant connection he feels with Beth, Braden isn't sure which side of the war she's on.
With suspicion at odds with their attraction, Beth and Braden must learn to trust one another to stop Markko for good. Can Beth accept the wolf within—and love a man who embodies everything she fears?
The idea for Hunting Human originally occurred to me as I was fighting off an afternoon snooze in the back of one of my law classes.  It took years before I was finally ready to sit down and write it.
When you start writing, do you already have the story plotted out or do you let the characters dictate what will happen?
The more that I think about this the more I begin to think I am a little of both.  I have to have a path forward.  I definitely have to know who the characters are and what they want and I usually have a few scenes loosely written in my head when I sit down to start writing.  But I've also discovered that I can't plot every even that occurs, sometimes that has to come about organically as I'm working through the first draft.
What inspired you to write in your genre?  Is this the genre you started writing in or have you morphed to this one?
I always loved reading paranormal romance.  And looking back on my childhood it really shouldn't surprise me.  I loved mythology, superheroes, (and tormented heroes), characters with secrets and heroines that kicked butt.  I think this was always the way my mind was going to take me as a writer.
Do you have a favorite character you have written?
I really like Chase (he's my hero's younger brother.)  His story is very interesting to me and as a character he was really easy to write.  I never had to really wonder where he was coming from or where he was going.  For me, he was an open book from day one.
Do you have a character that you look back on now and don't like?
Not yet.  I do wish that I'd had more pages to give to Caleb (the middle brother in the family.)  He continues to be a bit mysterious to me so I'm looking forward to breaking him apart and putting him back together to see how things work with him.
Do you draw inspiration for your characters from real life? Any fun stories you could share?
I very rarely draw on people I know.  I might, occasionally, name someone after a friend or relative but even that is rare.  I will say that I often start a character with a single trait that I admire (or in the case villains a trait that I loathe) and build a character out from there.  Sometimes this trait is something I see in those around me and sometimes it's a trait that I wish I had.
What do you find the hardest part of writing?
Writing. :)  I love to think about the story, develop characters and plot in my head.  I hate the writing part of it.  Well, that's not really true.  I don't hate it.  For me, writing is very much like going to the gym.  I could make an Olympic event out of avoiding it and the first few days I do it regularly it is a slow and painful process.  But once I've gained momentum, once I'm working every day and accomplishing something?  Then I start to remember why I do it.  I think Dorothy Parker said it best when she said, "I hate writing, I love having written."
Name one thing that your readers would be surprised to know about you.
I never had childhood ambitions of writing and so for a long time I felt like this made me less of a writer.  It's easy to fall into the idea that writers love to write all of the time.  I try not to beat myself up too much over the fact that that just ins't me.  Writing is hard!  And I don't always like doing it.
Do you have a guilty pleasure?
Sweets!  I have a huge sweet tooth.
What do you need before you start writing?  Anything that is just a must have or the creative juice don't flow?
I can't write from home.  So I'm usually at my writing spot of the moment (it changes as I get restless.)  And I have to have music, I can't write in silence or the general noise of a coffee shop.
Does music influence your writing?  If so, do any of your stories have a theme song?
Well, I can't write without music, but I don't know if I can honestly say that it influences me.  I will say that it's not uncommon for me to think about what kind of music a character listens to when I'm sketching out their stories and learning more about them, Braden, the hero from Hunting Human, is a big classic rock guy.
If your story was optioned for a movie, who would play your characters?
I honestly can't even imagine this.  I don't see physical features when I write (and often have to edit in physical descriptors of my characters after the first draft).  I generally see personalities.  Decisions.  Actions and expressions, but the physical look of characters always stays a little fuzzy because that just isn't where my focus is.  That makes it really hard for casting.
Where were you when you got your first contract?  Who did you tell first?
I was in my office at my day job.  I e-mail a really good friend of mine.  Then I went for a really, really long walk.  I didn't get much work done that day.
How old were you when you read your first romance book?
I was in law school, so let's see… 23?  My mom sent me a care package with a couple of romance novels because I was so stressed out. It took me six months to give one a try.  I've never looked back.
If you still have one of those pesky day jobs what is it?
I do.  I have a law degree and I currently work in intellectual property.
What are you currently working on, and what else is in the wings?
I'm currently writing a romantic suspense novel with a few paranormal touches.  I'm also in the final stage of laying out the sequel to Hunting Human.
What is your reaction to people who say one of the following…"Oh you write romance, I thought you were a real writer", "Romance isn't a real writing career" or the ever popular "Oh, one of those books".
I've actually never had those reactions.  I do get, "The dirty kind?" To which I laugh and ask them to define dirty.
Where can readers find you?
Facebook
Twitter
The Web
And for the silly side – What is your favorite type of chocolate?
Dark chocolate.  And if I can find a dark chocolate bar with whole hazelnuts then I'm in heaven.