AUTHOR SPOTLIGHT: LILLY CAIN
Spending a few minutes with recent Joyfully Reviewed – Recommended Read author Lilly Cain…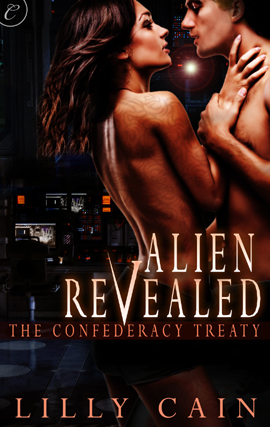 Lily what is your most recent release?
My most recent release is Alien Revealed, a sci-fi erotic romance novella with Carina Press. It's hot and the start of a series that spans the creation of a treaty between humans and the alien race the Inarrii.
Tell us a little about Alien Revealed, what inspired you to write it?
Alien Revealed actually came to me after I wrote what came second in the series. It was one of those flash moments when a story is gifted to you and it only requires a little polish – that doesn't happen very often!
Alien Revealed is the story of an alien spy – one never intended to have contact with humans – who crash lands practically in the arms of a
hot Starforce Pilot. While there is a lot of deception it is less of a spy story than a rescue mission and a love story. With lots of sex, lol!
When you start writing, do you already have the story plotted out or do you let the characters dictate what will happen?
I've tried it both ways, but I prefer having a basic plot before I begin.  An in-depth synopsis basically.
What inspired you to write in your genre? Is this the genre you started writing in or have you morphed to this one?
I love romance- it is what I read. But I also love sci-fi, and erotica and fantasy and action and mystery, so I like to write it all! The combinations are lots of fun. I didn't start out this way though – I started out in sweet romance. But my characters just wouldn't stay sweet!
Do you have a favorite character you have written?
I have one I am writing right now. That always seems to be the way – I love the ones I am working with at the moment. Right now I am writing a very wounded vampire, and a hot powerful dragon, and I love them both.
Do you have a character that you look back on now and don't like?
No, but I don't go back often. I don't read my work after it goes to press.
Do you draw inspiration for your characters from real life? Any fun stories you could share?
I do – I started internet dating after my divorce, and this is definitely a font for heros, and losers! LOL!!! My next release, Building Magic with Red Sage in October, has a dragon shapeshifter based on a man I met online and who was hotter than I could handle! LOL
Name one thing that your readers would be surprised to know about you.
Hmmm. Lots of readers know I take martial arts but maybe a few would be surprised that I have also taken 6 years of oil painting lessons and have sold some of my work.
Do you have a guilty pleasure?
Shhh. It's vodka – I've tasted every type that I can, and I love Grey Goose Vodka best of all.
What do you need before you start writing? Anything that is just a must have or the creative juice don't flow?
Peace and quiet to get me started. That brings on the ideas. Then all I need is time and a keyboard. I can't write with a pen and paper!
Does music influence your writing? If so, do any of your stories have a theme song?
Not really, although I do listen to a lot of music when I drive and that does seem to inspire me. I listen to everything though, from orchestra to pop.
If your story (you can pick just one or if there are more have some fun) was optioned for a movie, who would play your characters?
I have no idea! Although I do love Hugh Jackman…mmm. Hugh…

Where were you when you got your first contract? Who did you tell first?
I was at RWA, Florida Conference in 2009 and I told anyone who would stand still for a minute, LOL!
How old were you when you read your first romance book?
About 11 – It was pretty sweet.
What are you currently working on, and what else is in the wings?
I have a new novella coming out in October with Red Sage, Building Magic
and I am currently working on my second in the sci-fi series, called Naked
Truth!

Where can readers find you?
www.lillycain.com
Facebook www.facebook.ca/LillyCain
Twitter @lillycain
And for the silly side – What is your favorite type of chocolate?
Milk!!! With almonds.