NAUGHTY AND NICE by Jaci Burton, Megan Hart, Lauren Dane, and Shannon Stacey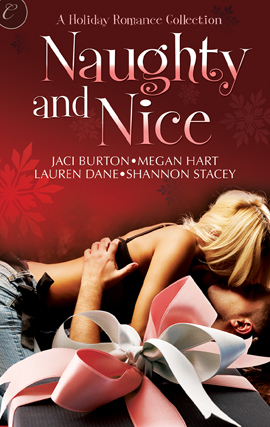 Naughty and Nice by Jaci Burton, Megan Hart, Lauren Dane, and Shannon Stacey
Carina Press
Contemporary
ISBN: 9781426890826
Reviewed by Vanessa




"All She Wants for Christmas" by Jaci Burton
Riley Jensen has made it big in Nashville.  She had to take a hard road to get there, but she has paid her dues and achieved her goals.  Now the powers that be want to film a biography on her and they need her to go back to her hometown to do it.  Riley doesn't want to visit the scene of her heartache, even though she has long since put that pain behind her.  Going back home to see the love of her life and her best friend just doesn't sound like something a girl would want to get involved with, even if it has been ten years since she ran away.
Ethan Kent is a widower with a young daughter who made a bad decision ten years ago.  He had broken Riley's heart by being found in Amanda's bed.  Then he had let Riley run away and didn't follow her because he rationalized that she would soar to the sky if he wasn't holding her back.  Feeling that he needed to own up to his mistakes and make things right even if he couldn't have the girl of his dreams anymore, he let Riley go and married Amanda who claimed to be pregnant.  Now Riley Jensen is back in town and to make matters worse, his daughter is one of her biggest fans.
What did I like about "All She Wants for Christmas"?  I liked that Amanda and Ethan had to deal with Riley's heartbreak every time they heard one of her songs on the radio.  I even found it an added bonus that the townspeople knew as well.  I felt Riley was able to experience the emotions that she needed to go through via her music, while Ethan was able to forgive himself as Riley forgave him.  As I read the story the old adage: "If you love something set it free.  If it returns, it's yours.  If not, it never was."  I don't think Ethan would have chosen to let Riley go that way, but he took advantage of the situation and let her go to rise above her place in life.  Riley soared without the encumbrance of a relationship with Ethan, only to return years later.  Would she have become a big star if this didn't happen?  Maybe . . . maybe not, but the thing is it did happen and she did become a star because of it so she took the lemons and made lemonade and he can't be sorry for the little girl that he has.  I tend to think the love was there for both of them it was just pushed to the side.  She found an outlet to deal with her pain and suffering via her music and he seemed to just lie in the bed that he had made and loving his little girl.
"All She Wants for Christmas" was a hard one to get past.  The betrayal of your best friend with your boyfriend is something some people wouldn't ever get past.  But Riley proved that she was stronger than she looked and that music really is cathartic.  I believed Ethan was sorry for his mistakes and wanted to make things right with Riley.  So the HEA was believable for me.
"All She Wants for Christmas" could have worked as a long story with more emotions conveyed, but I thought Jaci Burton did a splendid job of conveying what she did in a short amount of space.  Everything wasn't spelled out in black and white, but the emotions were there.  You had to look below the surface of the words to get the emotions.


"Holiday Sparks" by Shannon Stacey
Chloe Burke, web designer, is housesitting for her parents who are on vacation.  She uses some appliances, which in turn cause the electricity to short out.  Calling in an electrician she discovers her childhood home is in desperate need of a rewiring.  Deciding that this would be the perfect Christmas gift for her parents she gives the go ahead to the hunky electrician whom she doesn't recall from school.
Scott Quinn was the class geek who had a secret crush on the all American cheerleader.  She starred in numerous boyhood fantasies and being able to spend his time rewiring her parent's home sounds like his fantasies come to life!  In high school he wasn't even on her radar, but now . . . she is the one fantasizing and flirting with him.  Will the spark that sizzles between the two of them be enough to ignite a lasting relationship, or will it fizzle out when the job is done?
"Holiday Sparks" has the perfect balance of chemistry and sizzling sparks to keep the reader within the pages of this short story.  I liked that Scott was in tune with Chloe's feelings and they didn't have to be written on the wall for him to get them.  I liked that Chloe was nice to Scott in high school and that she even recalled a sweet moment that they shared together.    "Holiday Sparks" was a sweet romance where the characters took a chance on love, pushing their pride aside and taking that leap of faith knowing that it might not all work out.


"Unwrapped" by Megan Hart
Newlyweds, Leah and Brandon Long, are spending their first Christmas together without family.  They have decided to go away for the holidays on a budget ski trip.  Leah is not as athletic of a skier as Brandon but she still gives it a try because he enjoys it.  One night run down the mountain involves a mishap that leaves Leah with a sprained ankle and having to sit around the rest of their trip.  How will this help them to grow closer together with her sitting in the lodge while he skis down the mountain?
"Unwrapped" has the characters exploring the dynamics of their newfound relationship.  Leah and Brandon push the boundaries and establish a deeper trust by doing so.  I found that "Unwrapped" probably would have been more enjoyable if I had read about Leah and Brandon in Taking Care of Business and No Reservations.  "Unwrapped" was more of an epilogue of their story.  Still it wasn't a bad read but I believe that I would have gotten more out of it if I had read their story before this one.


"Believe" by Lauren Dane
Jude and Rori are finally together.  Having come together and broken apart for a few years they are finally getting their second chance.  Will they be able to speak of their wants and desires to one another or will they shut them off afraid to hurt the other party in their relationship?
Jude and Rori were originally introduced in Second Chances and this is more of a completion of their relationship towards that happily-ever-after as they iron out a few more wrinkles.  "Believe" shows that Jude and Rori can get their second chance by learning to open the lines of communication to build a stronger foundation for their life together.  I liked that they didn't just dismiss the past, but dealt with things openly and honestly.  To truly enjoy "Believe" you need to read about Jude and Rori in Second Chances.


Naughty and Nice is a wonderful read simply for the first two stories.  Even though the other two are more of epilogues, I believe that if you read the initial stories you will enjoy these as well.