TEXAS TANGLE by Leah Braemel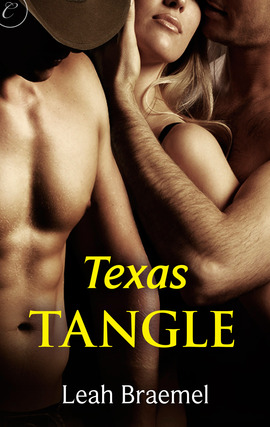 Texas Tangle by Leah Braemel
Carina Press
Erotic Contemporary/Western/Menage
ISBN:  9781426890376
Reviewed by Talia Ricci




Nikki Kimball has just been robbed. As if her life wasn't bad enough, she comes home to find out her brother has left and her house is empty.  She thought what her ex-husband did to her was heartbreaking, but the fact that she was swindled by family leaves her aching.  Thank goodness she has Dillon Barnett – he has been a rock she can lean on…a very sexy one.  Dillon has told Nikki more than once that she is welcome to be with him as long as she needs. It goes without saying that he is hoping she stays because the longer he is with her, the more he cares about her.  And the best thing?  His foster brother, Brett Anderson feels the same way.  Now all they have to do is convince Nikki to take a chance on them.
Goodness gracious, but wow.  Texas Tangle by Leah Braemel is one hot western ménage!  Both male heroes are lean, loyal, and smoking hot.  Their treatment of Nikki and the love they have for her shows in every touch and breath they take.  The love scenes sizzle on each and every page.
For a truly great ménage read, Texas Tangle is the book for you.  I couldn't get enough of it and had to read it twice, okay – three times!