ALIEN REVEALED by Lilly Cain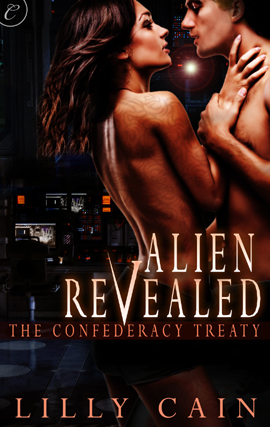 Alien Revealed by Lilly Cain
The Confederacy Treaty Series, Book 1
Carina Press
Erotica, Futuristic, Science Fiction
ISBN: 9781426890161
Reviewed by Ali




When Inarri agent Alinna Gaerrii crash lands her observation pod on Earth while observing Starforce base, it derails her mission. Being discovered by the humans only adds to the failure in her task, until she realizes there's been a mistake in her identity. Now she will get a chance to observe the humans up close, especially with one Major David Brown.
David and his Special Forces team assume Alinna is the psychologist sent to assess them before they head out on a new mission. While not pleased to know Alinna is a psychtech, David can't deny his attraction to her. However, knowing that showing any interest towards her may jeopardize his career, he hides his feelings under a mask of indifference.
Nonetheless, their mutual attraction soon initiates a mind contact, m'ittar. It is through this connection that they first convey their forbidden desires. While Alinna is thrilled by the idea of a treaty between the humans and Confederacy, she's more captivated by David, a possible life mate. Before long, though, a surprise attack and growing suspicions of Alinna may have her revealing secrets that would forfeit any plans of a treaty and any future with David.
Alien Revealed is the first story in a new series by Lilly Cain and it is both scintillatingly sexy as it is thrilling. Ms. Cain wastes no words in this story, creating both a futuristic world we can well imagine and poignant characters we come to love.
The chemistry between David and Alinna starts out a slow simmer and becomes blazing hot. There is a connection between the two even before they start to get physical. Alinna proves her trust in David, as she allows him control in the bedroom, adding a bit of BDSM spice to Alien Revealed. I should warn you, Alien Revealed will definitely get you all hot and bothered, so be prepared. Their bedroom scenes had my heart pounding and my eyes glued to the pages. I wholeheartedly Joyfully Recommend Alien Revealed to anyone seeking a satisfying and delightful paranormal read.